If you have ever received a shipment of cold items in the mail, chances are it was packed it dry ice. Dry ice is also known card ice. It is carbon dioxide in solid form. It has no color and is acidic. When dry ice breaks down, rather than turning into liquid, it turns into carbon dioxide gas. There are some precautions you should take when handling dry ice. These precautions include wearing gloves when handling the ice. It can easily damage your skin due to its cold temperature. It is also very important to never ingest it. Also be sure to keep it away from children. Dry ice is not a toy and should never be played with. Since it is a gas, you should make sure the area where the dry ice is will be well ventilated. Equally important is to never transport dry ice in a closed vehicle. Do not store it in your freezer or refrigerator because of how cold it gets. However, if your freezer is not working you can certainly use the dry ice to keep your frozen foods frozen until your freezer is fixed.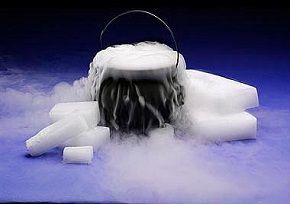 ---
There are also several benefits of using dry ice. It is an excellent choice to use for packing and shipping food items that must be kept cold because it because of the fact it gives off more cooling power then regular water ice. It is a lot easier and more convenient to use dry ice then water ice. Adding dry ice to your cooler will allow your perishables to stay colder longer. This is ideal for campers, hunters, fishermen or anyone who plans to spend a good portion of their time outdoors. Compared to water ice, dry ice lasts longer. You can expect 5 pounds of dry ice to last about 24 hours. You can also use it in addition to water ice in your cooler. Also helpful to use when processing ground meats and sausages. It Helps to reduce spoilage.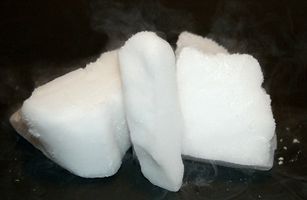 Although not a toy, dry ice can be used to create special effects during your next party. You can easily create dense fog for your fog machine. Use dry ice to create fog for a haunted house. Night clubs can benefit from using dry ice to help create dramatic effects inside the club. To make fog with dry ice, simply place it in hot water. Very hot water will help produce more steam. To help control the direction of the fog, try place a fan near it.

It is also helping in the removal of warts. You can use it to freeze the wart for easier removal.

Use dry ice around the house. It can be used to remove old floor tiles. Perhaps you have a pesky gopher. Place one to two inch piece into the gopher hole to help eradicate that pesky critter. It is also helpful in transporting your plants and helps in delaying early blooming. There are many more uses for dry ice both indoors and out. Just be sure to take a few safety precautions.

---